Back to Events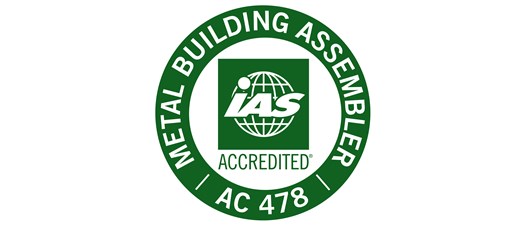 AC478 Roundtable
Friday, September 10, 2021
Event Details
Prove your Quality with Accreditation

Register now for our next virtual AC478 roundtable on Friday, September 10, at 2PM EST.
The AC478 Accreditation program is the most comprehensive quality assurance accreditation of its kind for metal building assembly. It is administered by the IAS which is a sister company to the ICC, responsible for creating the IBC codes. It focuses on several key areas:
Documented safety program and training program
Documented management system
Onsite jobsite assessment
Annual verification of compliance
Job-Site Specific Plans
Annual Internal Audits and Management Reviews to ensure continuous improvement
This assures owners that the erector they have chosen follows a comprehensive quality driven metal building assembly program that is assessed annually.
AC478 accreditation provides a benefit to the public by helping to identify contractors who are committed to safety and quality workmanship; who maintain a high level of integrity. AC478 is a standard to which all MBCEA members can aspire, be measured, and held accountable.
MBCEA is committed to this quality assurance initiative for all members. Read our Whitepaper here. If you are considering accreditation, contact Jackie today to register for this next roundtable discussion and/or set up your first individual meeting with her.
Not sure about AC478, check out our YouTube!
For More Information:
Jackie Meiluta
MBCEA is commited to this Quality Assurance Program for its Members!